Internet & Mobile Banking Enrollment
It's never been easier to stay on top of your finances!  Internet and Mobile Banking enrollment is quick and simple and should only take a few minutes to complete. 
You'll be asked to provide the following information:
Your Account Number


Your Social Security Number

Your Email Address
Keep in mind that this is a secure area, no one will see your personal information.
---
Internet Banking Enrollment Instructions
Begin by clicking on the Get Started button!
Provide the required information on the Enrollment Form and follow the on-screen prompts to complete online enrollment.
Select the correct answers to the system-generated Verification Questions and select Enroll.
Read and Agree to the Terms and Conditions.
Establish a Password and Continue.  You may be prompted to create a User Name or one will be provided for you.
Make sure to memorize your User Name and Password. You will need to enter them each time you log on to Internet and Mobile Banking following initial enrollment. Protect your User Name and Password and never share them with anyone.
Set up Challenge Questions and Continue. Begin using Internet and Mobile Banking!
If you would rather not provide this information online, you can still become an internet banking user.
Simply contact your local branch to get set up.
For more information about features or to watch video tutorials-click here
---
Mobile Banking Enrollment Instructions
The app can be downloaded from the App Store or Google Play by searching for:  First National Bank Pierre
Already have Internet Banking:
Download the mobile app and use your internet banking credentials to log on to mobile banking.
If you receive an error message or encounter problems, please contact your local branch for assistance.
---
Your Information is Secure
Online banking uses a multi-level security system to keep your account information safe and secure and you are able to change your password as often as you wish.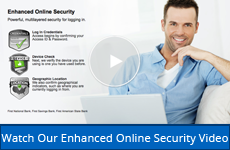 SECURE SIGN ON TIPS:
Maintain the confidentiality of your username and password
Only access your accounts from a trusted computer running current anti-virus software
You can use more than one computer or device to access your accounts; however, each time you log in from an unrecognized computer you may be prompted to verify your identity
Do not use public computers to access your accounts
Never write down your password and change it regularly
Always log off your account when you are finished banking online
For access to financial information, use different passwords than those for your more common uses, such as email
Do not use a password that contains easily found information, like a birthday, pet's name, mother's maiden name, etc.
*Message and data rates may apply to Mobile Banking.